The trek I will be writing about is about this place Kothaligad, which is around 25 km's from Karjat station, a 40 minutes car ride during midnight. Yes, it was a midnight trek and I was cautioned by many before going for such treks as the lack of vision and with the down pour in Mumbai during that time, it could be dangerous, plus might result to an undesirable bed ridden sickness.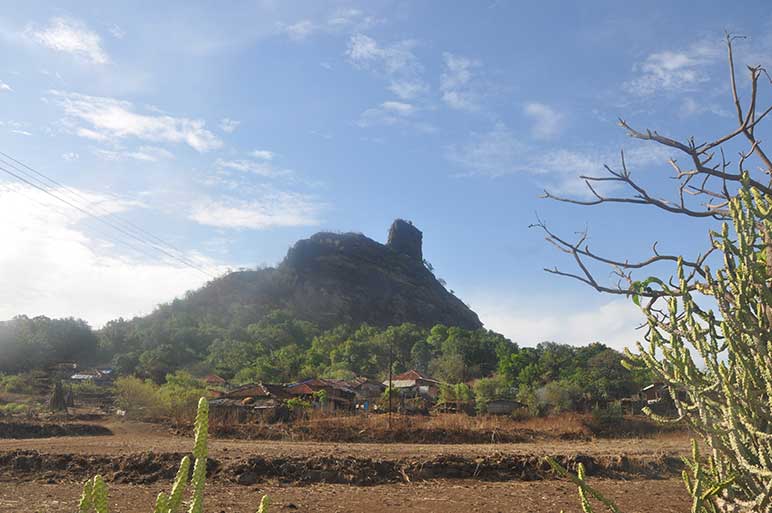 Alas, the trip resulted into an enjoyable experience followedby a muscle jam for few hours but only for couch potatoes like me.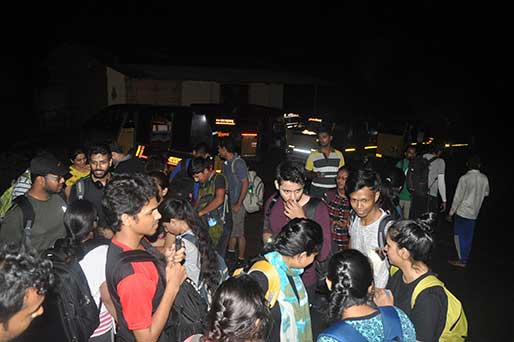 We went for this trek with Mumbai pune Adventures, a very supportive and encouraging group. We were a group of 30-35 people. It was raining. cats and dogs in Thane when we had initially left. But the moment we got down at Karjat the weather was very pleasant. It took us 40 mins to reach at Kothaligadh. The trek was basically a three to four hours walk, but as it was dark it didn't seemed we travelled much only until we started to walk and climb back in daylight.
Fireflies were often seen in the way like shining mini white lights. They use the light to attract the females, and there were plenty to see throughout the way. Just there was not enough light to shoot them as we saw in various photographs.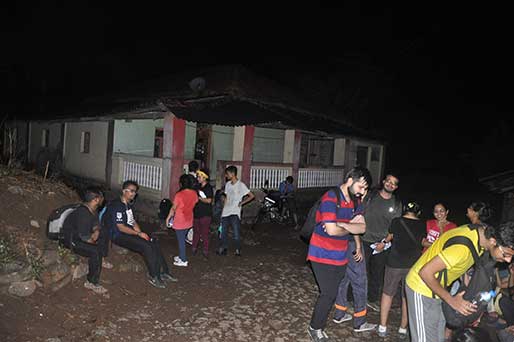 We rested outside for a while once we had completed the 5-6 km walk near a local man's home, he was kind enough to guard our extra bags we had left behind at his place before climbing up. It was an hour and a half climb till we reached around 4.30 at the foot hill. The breeze was cold and fresh, many of us had the best nap at that foot hill. It was truly priceless.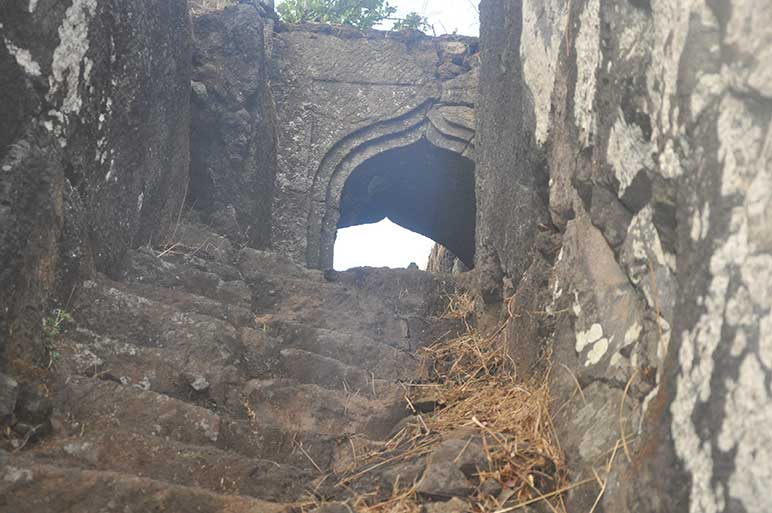 After the nap and sunrise, we began shooting. The countless shades of blue and green in the monsoon sunrise is something we were trying to glare and shoot most of the time. Lenses which shoot well in low light are advisable for this trek. Then, came the time to climb up the fort. The steps were steeper and the endurance was higher then what we had climbed earlier but there was nothing that could beat the view from that height. The trek and the hard work was worth it all.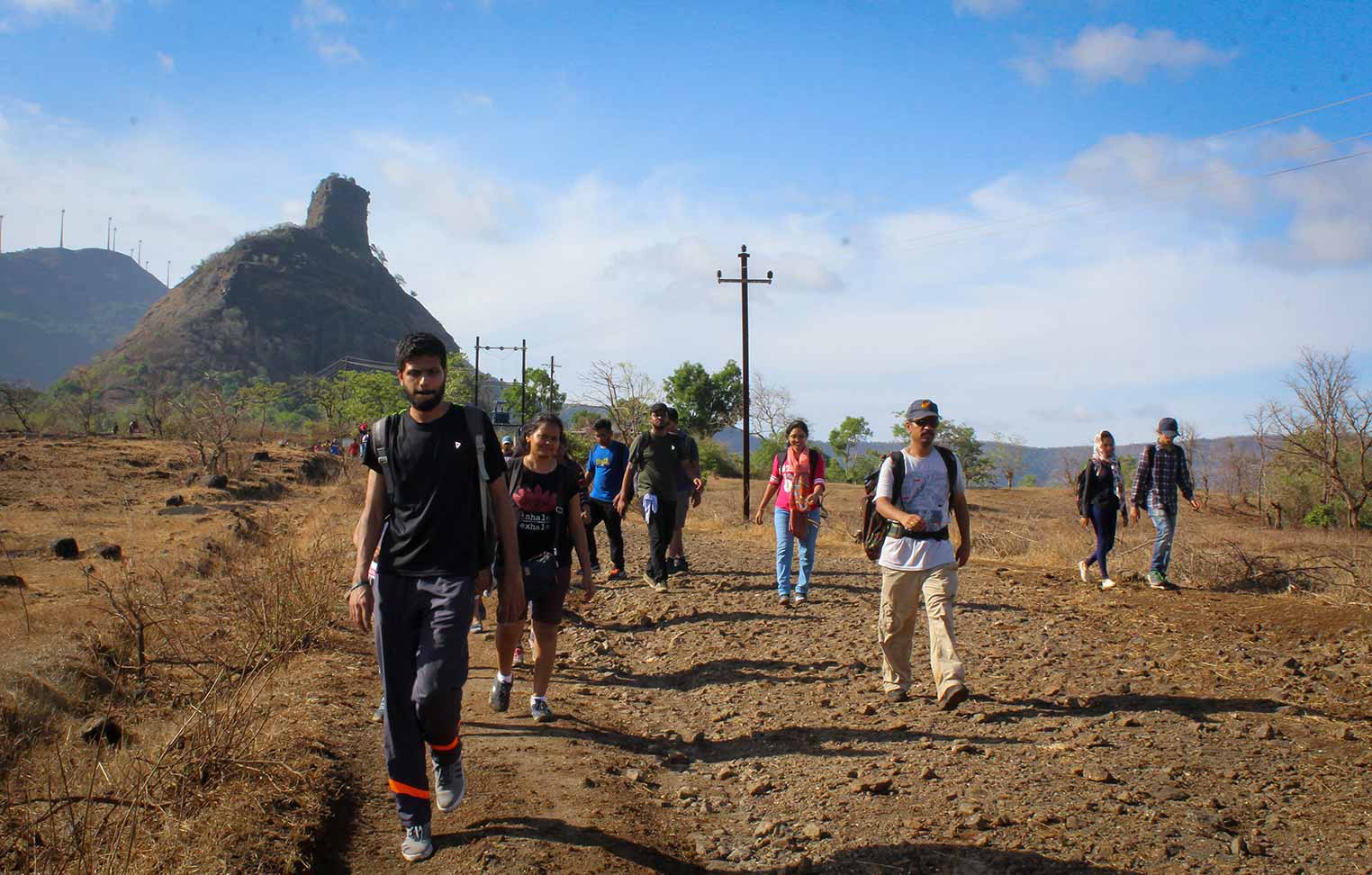 While returning back, we had breakfast arrangements at the same old man's place, There were kids distributing Jamun and Raw mangoes on the way when we came back. Overall it was an enjoyable trip with the memorable hill top nap along with the view and the fireflies.
So to sum it up:
Place: Kothaligadh, 40 min from Karjat. Preferable time is either midnight or early morning.
Kind of trek: It's a 6 km walk and then 1 km climb. So total 12 kms walk, with 2 km climb.
Endurance: Low during the walk, Although the hill took us longer to climb and serious knee workout ahead due to the huge steps.
Cost: 600-700 rupees (without camping)
Main Attractions:
Fireflies on the way till you reach the hill (before Monsoon)
Peth Fort and the hill (amazing view with the breeze you just can't resist walking back.)
Facilities: If you travel with a trek/adventure group like I did, you get breakfast (Poha and chai) along with a place to keep extra stuff before you climb the hill.
If you are travelling all by yourself kind of group, you might need to carry less things given the steep climb. This type of trek will be more enjoyable if you climb at evening and camp till sunrise, there is enough space for 6-7 tents on the lower hill. At the top however the view is bliss. We went for a one night trek so we didn't get much time to stay (around 1 hour till sunrise).
Do's:
Carrying a torch at the midnight trek is a must.
Very good quality trek shoes. This spot has many places with silt type of mud. The steps too are slippery at many places. The region has plenty rainfall so you have get good shoes for such kind of terrain.
I want to shoot fireflies mainly on this trek but turns out that there was very limited light, Only and only if you want to shoot them carry lenses and lights accordingly.
Keep glucose and at least 3 bottles of water, even when its night it's a little humid so you sweat more and get thirsty faster.
Wear light clothes, carry a small towel and coleslaw sandwiches as snack.
Keeping DSLRs is as per your convenience, you can take fabulous hill shots from the top. The shades of blue will blow your mind.
Don'ts:
Littering around during a trek is prohibited and we are sane enough to bring the garbage back with us if we are left with any.
Don't pack too many things.
Just keeping walking if you are a beginner, It's a long walk and a little steep climb, but finishing the trek gives utmost satisfaction. You won't regret the hill top view for sure.
Keep distance while walking because being that dark you can easily get bumped into other people if it's a huge group.
While walking down specially watch your step, do not hurry as the climb down is tougher than going up the hill. If you watch your step you can prevent any severe knee pain the following day.
I would not recommend this trek if your main aim is to shoot fireflies.