"Kya Traveler Hai Tu ?"
It all began with my friends' putting the onus on me to plan a good trek for the weekend
We had two weeks of heavy rains, and I wanted to be out there looking for fireflies, the clouds floating above me and sniffing the heavenly scent of the wet soil.  I needed some adrenaline rush, and that is when Kalsubai came to my mind.
Kalsubai-Everest of Maharashtra
I read about Kalsubai when I was in the 4th grade.  And I still remember my goof up – my answer to the question "What's the highest peak of Maharashtra ?".Yup !  I wrote Mount Everest.  And later when I googled the Highest peak of Maharashtra, and there it was Kalsubai!   A new Place was added to my Bucket list !!
That's how it came about – the trek to Kalsubai.
I looked up the Mumbai Pune Adventures which was offering a Kalsubai Trek that weekend.  Checked out the food.   Wowww !  Unlimited Breakfast and Unlimited Lunch.  And when I called up, they said the magical words –  Traditional Village Food
I was like Dude, Take my Money Right Now!!!
After a few discussions with Buddies, it was Final;Kalsubai here we come.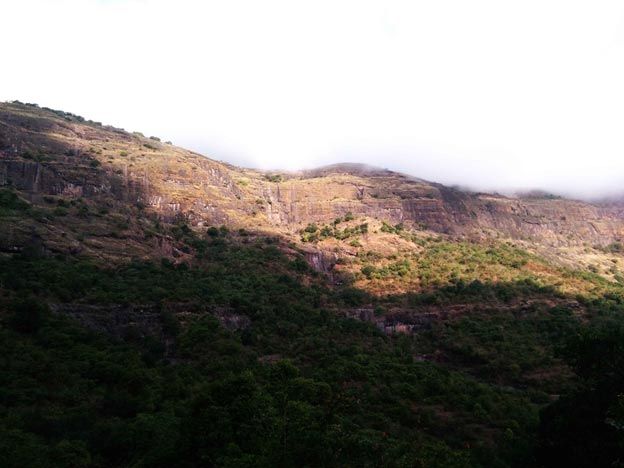 Kalsubai-Everest of Maharashtra
The booking was confirmed and a day later we were part of a WhatsApp group.
Meticulous arrangements were made by the organisers.The Pick-up Point was Pritam Hotel at Dadar.We were picked up by a mini-bus at 10 pm.
We reached the Kalsubai Base.And the beauty of the night when we stepped out of the bus –   Oh the fireflies and the stars! It was Breathtaking – no other words for it !   It's been a long, long time since I saw so many stars.  The last time I remember was in Udupi after a blackout.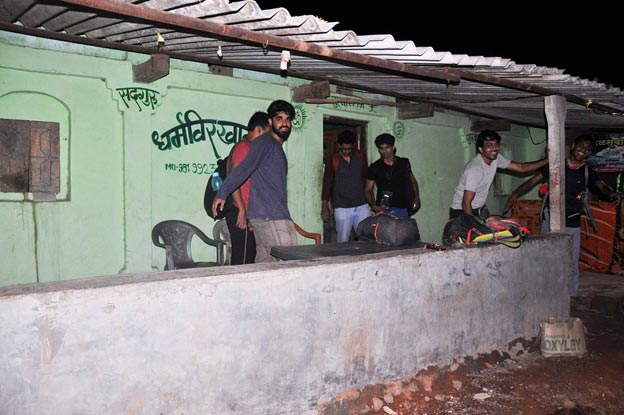 Base Village of Kalsubai
I could have gazed at the stars all night!  However, taking rest was important since there was a trek the next day.
Arrangements had been made for sleeping in the traditional village style; I loved it.We slept on the floor with only a thin bed-sheet below us. I managed only an hour and a half sleep since I wanted to experience the sunrise. And it was worth watching!
"First Rule of Travel: Always Get Up Early DUDE!
@mumbaipuneadventures #kalsubai #kalsubaitrek #everestofmaharashtra"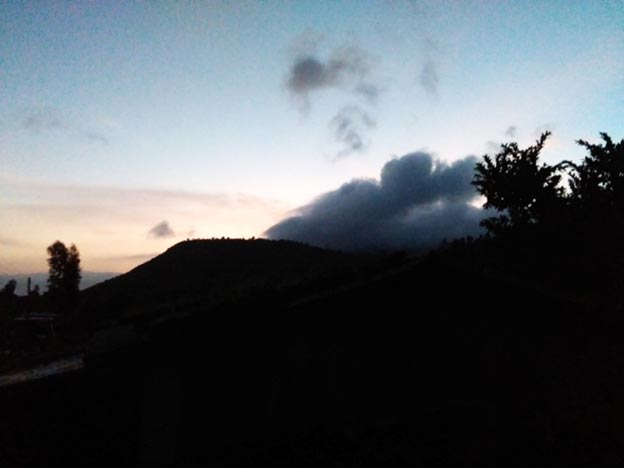 Sunrise in Kalsubai
Breakfast consisted of the traditional Maharashtrian Poha with a dash of Lemon to enhances the taste.
TIP: Squeeze an extra lemon, makes it tastes crazier.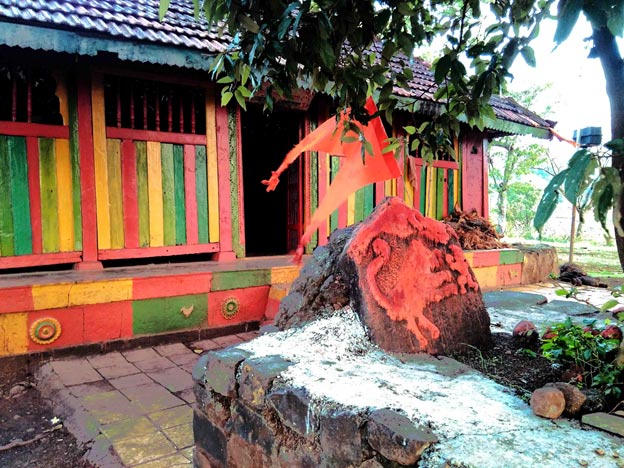 Start Base of Kalsubai
Before we started the trek, we had a group introduction.
The Kalsubai Trek is very simple and ideal for a beginner.There are a lot of steel ladder making it a really easy trek. Basically, one just needs perseverance and endurance.There are many spots where one can take a break and enjoy the view.
I was the first one in my group to reach the peak.
It was so peaceful up there at Kalsubai Peak.I reached the Peak and then just rested using my bag as a pillow.It was an awesome moment there, staring at the clouds above,
Nothing mattered then –  my fellow trekkers, my empty tummy, the descent to the bottom of the hills.
It was entirely my moment then – staring at the drifting clouds, listening to the birds chirping, hearing the sound of wind.
Everyone should take a break and rest
Because,
Rest is not idleness, and to lie sometimes on the grass under trees on a summer's day, listening to the murmur of the water, or watching the clouds float across the sky, is by no means a waste of time.
-John Lubbock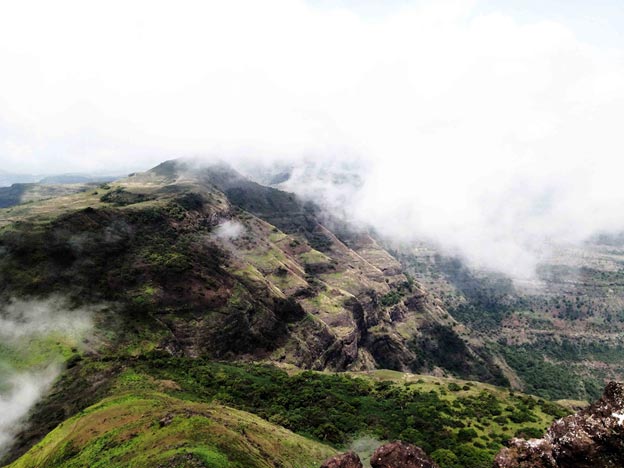 View from Kalsubai
And then my friends appeared to disturb my moment again.
After a brief rest and a group pic, we began the descend.We had some yummy milk barfi, and while coming down, we had some awesome hot onion pakoda and Maggi Noodles, since our tummies demanded fuel for the descent.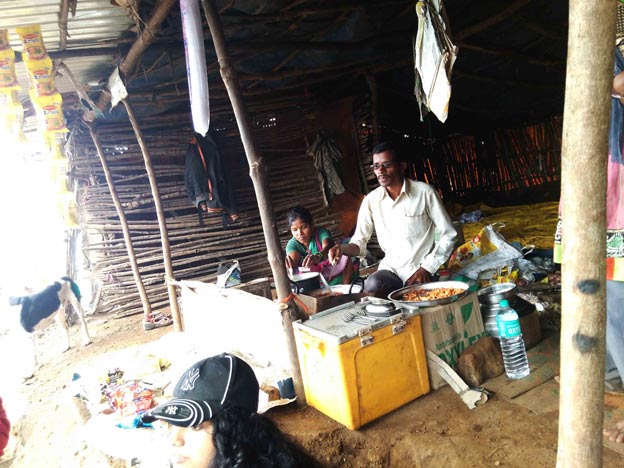 Having Maggi Noodles and Garam Garam Onion Pakoda
While coming down, we had some Awesome Hot Onion Pakoda and Maggi Noodles, because my tummy demanded some energy for the descend.
We pumped water from the handpump and washed.  Changed our clothes and waited….
For Lunch
Again we had a traditional Maharashtrian Village type Lunch, Thick chapatis with potato bhaji and a curry.
A short rest and then the ride back to Aamchi Mumbai !!!
Now for some essentials!
Things to be carried
Do carry some biscuit packets.
Some Ready to eat dry snacks
A bottle of water (Minimum 2 Ltrs), You can refill the bottles at the base.
Camera (Optional)
Cap
Torch compulsory with extra batteries
Some essential medicines those if u usually require (Optional)
Good trekking shoes, an extra pair of socks.
Windcheaters
Extra Pair of Shirt, Shorts or Track Pants (to change into after the descent).
Inclusions in the package
Morning breakfast &  tea, Lunch, Bus travel from Mumbai to Kalsubai and Guide
Watch the Whole Crazy Kalsubai Trip in this Vlog by my Buddy
Courtesy: Rishabh Puthran