If we were meant to stay at one place, we would have roots instead of feet, he said –Rachel Wolchin.
I believe in what he said. I am an ordinary girl with not so extra ordinary dreams but definitely a long long bucket list..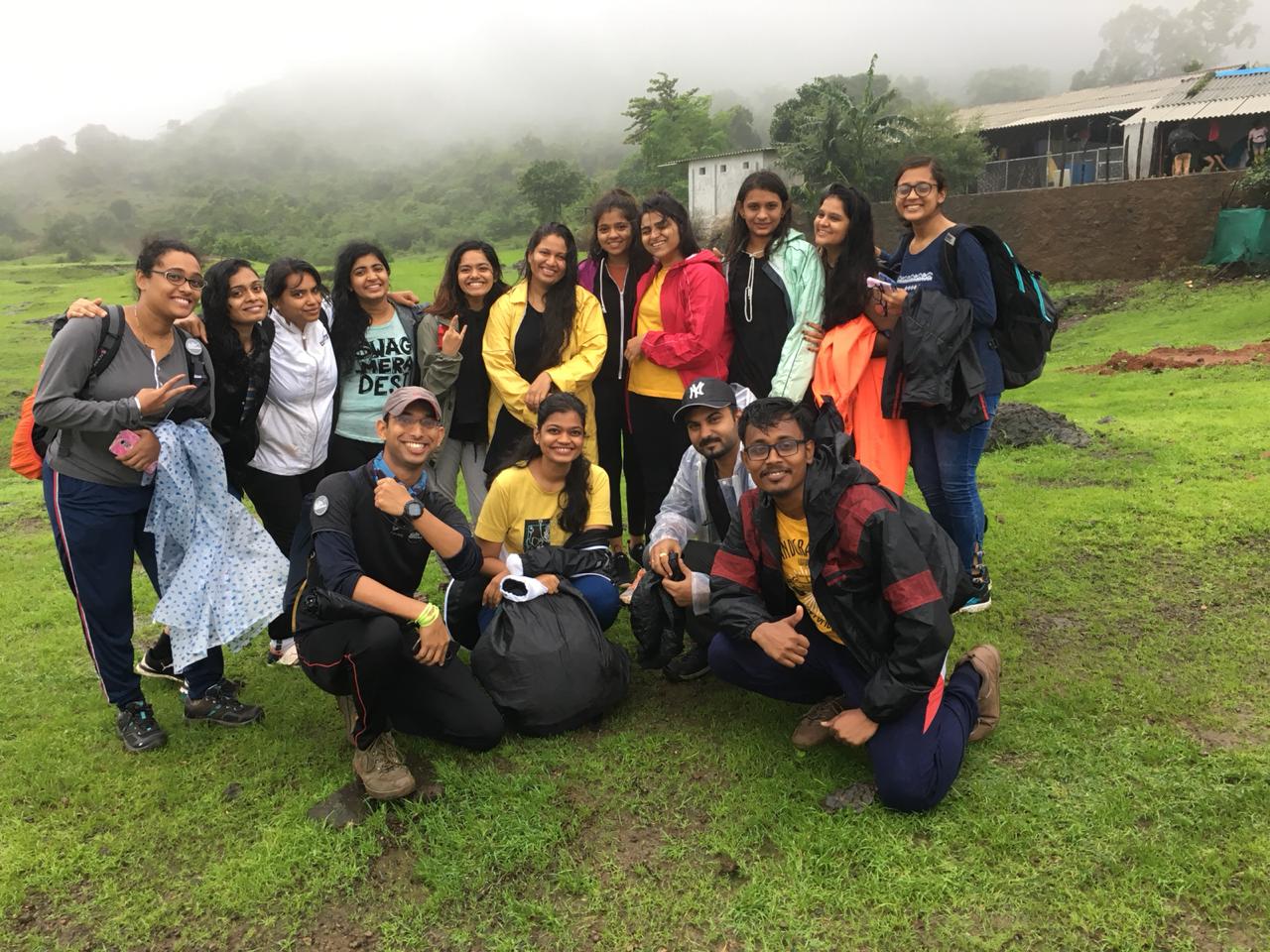 Weekend at Prabalmachi Camping with my fantastic four friends and obviously with Mumbai Pune Adventures made me strike off few things together from that bucket list..!!
After convincing parents with lines like, "Momma trust me it's safe",
"Papa kaay nahi thay tension nahi lyo",
Mumma amhi CAMPING la jaato haay.. trekking la nahi.."etc, etc
We finally managed to get permission for this trek + camping which was then renamed by us as Tremping..!!
Most awaited weekend arrived. Pooooon…!! Choonk choonk choonk choonk. Here we are on Panvel Railway Station on 14.07.2018 @5.00 pm meeting cool bunch of participants and obviously an amazing Team Leader- Girish ( jiski taarifon k pool meri saheliyaan bandh k thak nahi rahi thi)
We were given MPA badges, few instructions like not to litter, no smoking, no drinking, etc and we commenced our Night trek from Thakurwadi @7.00 pm
We were already nature struck..!! Admiring mountains,  Admiring that so many  waterfalls which made their way from top of the mountains flowing amidst the woods..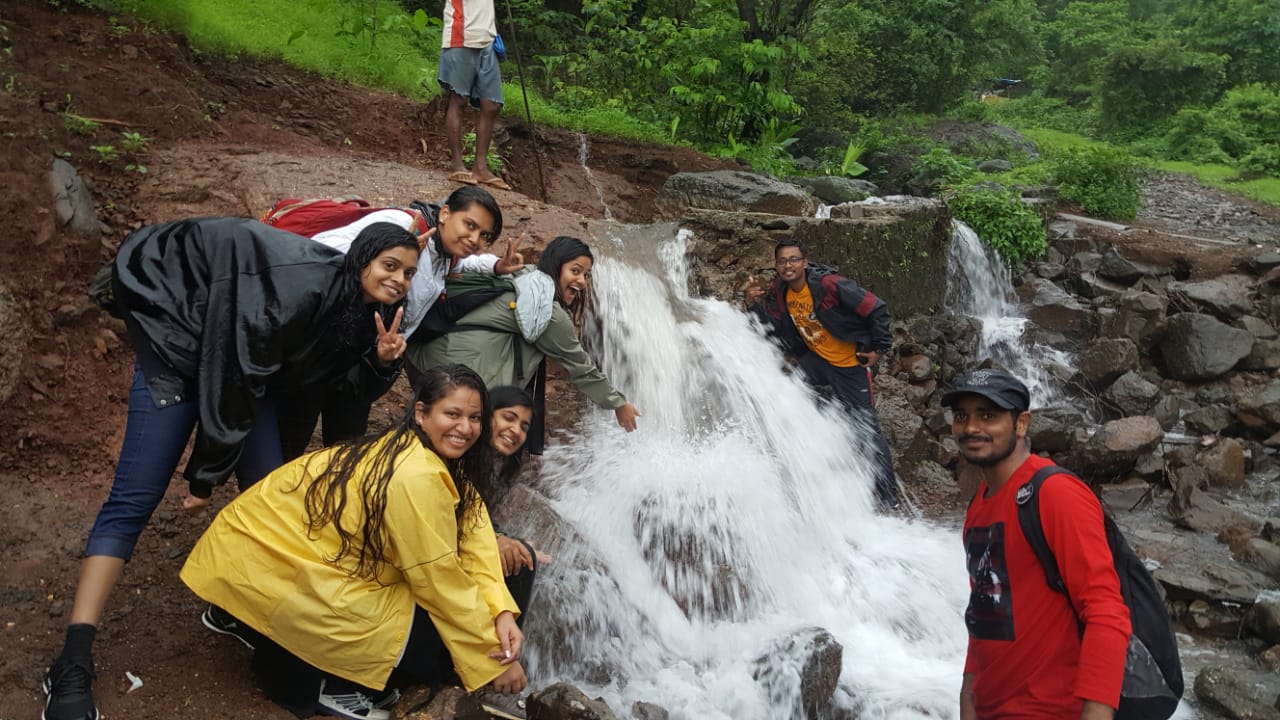 Meanwhile Girish said,
"Vo waterfall jaha se start horha hai na. hume vaha pahuchna hai.."
I leave it upon you to imagine our faces with that big Ohhh Wow wala reaction..!!
Time passed. Sun sets. torches out. thrill began. We were walking in jungle which was surely free from wild animals but full of insects and crabs. (One down from my bucket list)
Tired..?? No worries we have our team leader..!! Ready to help, Already walking with three three bags…
"All for one… One for all "Helping each other, waiting and motivating one who is tired. Yess!! That was what our entire team did.
Me humming line from Agar. tum..kaho ***Main Jugnoon k peeche jaaun. Agar tum kaho***
Sight of witnessing Jugnoos dancing here and there on the trees and bushes was magical..!! (One more down from my bucket list)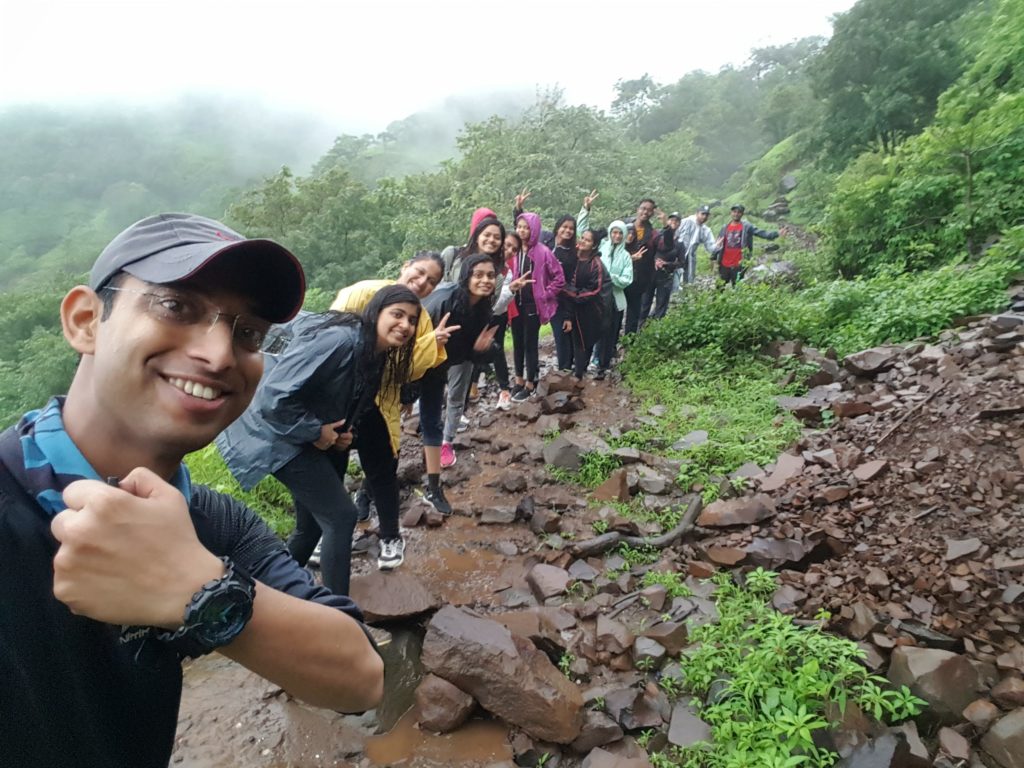 75%, 80%, 90%, 95%, 99% and here we are at Prabalmachi..!!
Where the arrangement for our dinner was already made.
Tasty Typical Village Food like Rice ki Bhakri, Chappatis, Dal, Rice, Pickle, Pappad, Chicken was served.
Raat baaki, Baat baaki…Yes yes. Games like Mafia, Name volleyball, World tour, Bollywood ka safar, Ghost stories and all sort of matargashtis made us laugh till our stomach ached..!!
On 15th July@ 2.00 am finally. A dream to stay in tent came to life.. Clicking pictures like shadows of our heart shaped hands, giggling with a friend in the tent and laughing and talking with friends in other tents we did it all.
It is rightly said there is a hidden child in all of us. It was time to be that child and relive childhood again.
I remember playing ghar ghar with open umbrellas in monsoon with my childhood friend and happiest moment was  being together in tiny tent 'GHAR' with that same childhood friend this monsoon.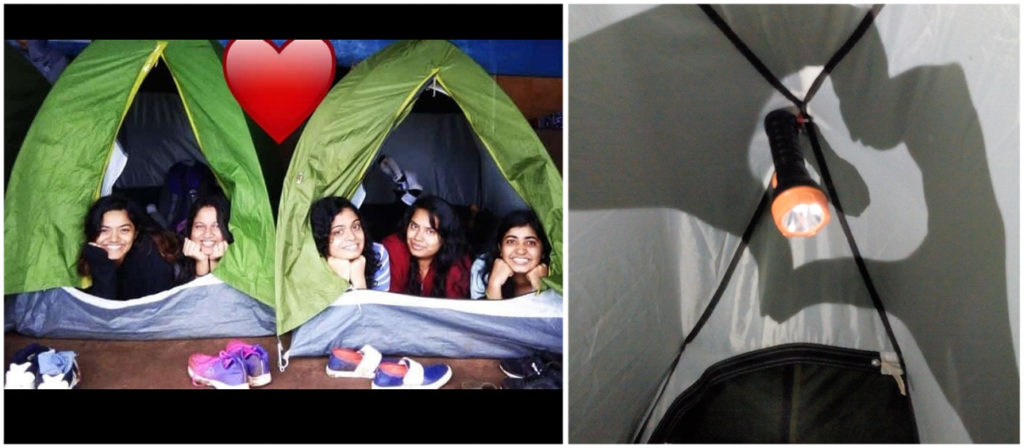 Cookadoooo!! Morning it is..!!Waking to the view like this. Ohh Woww!!
It was like clouds compelling us to only capture beauty with camera called eyes and keep it safe in the album of our heart.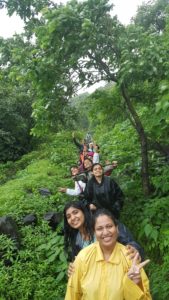 Fog fog everywhere, at one moment there is nothing but fog and at other moment slowly slowly that clouds unhide the mountains and give us the clear beautiful view of city down.
We clicked plethora of pictures while descending down. We fell in love with this place slowly slowly and then all at once..!!
Chai and poha geared us up to descend in such a rainy day..!
One step closer and here we are back to the base. Har har maidan fateh!!
With euphoric adventure with friends and one of a kind experience we returned back to Mumbai.
Thank God! Memories too are portable and durable. We can carry them with us wherever we want and lock them in our hearts forever…