Trekking… The word itself is enough to introduce us with adrenaline rush!
The combination of Monsoon, Cool bunch of cousins and Mumbai Pune Adventure made my first trek a memorable one!!
I realized how selecting the correct adventure tour agency is as crucial as selecting a perfect picturesque location in order to happily visit down the memory lane of first trek!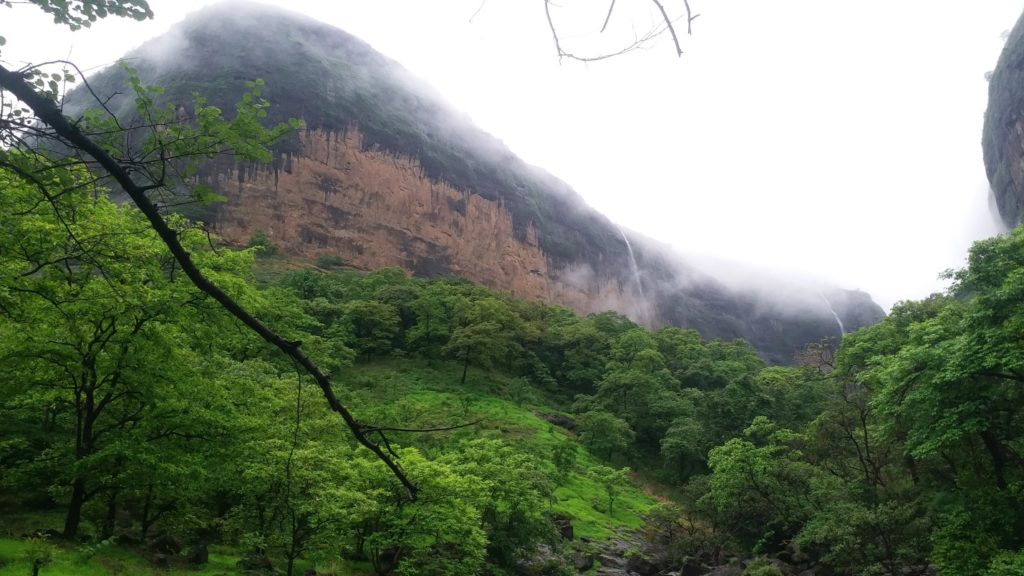 24.06.2018 @11 pm starts the journey to one of the breath taking location – Devkund Waterfall!
As it is said 'Well begin is half done'
Khilti, Vinay and Swapnil very well knew to bring this saying in reality!
Personally visiting each and every adventure junkie, asking our names, making us comfortable, breaking the ice amidst unknown people, to gel effortlessly with people they did it all.
Antakshari in bus was cherry on the cake. Especially for us because the 'Gujju Gang' through that game became center of attention in entire bus!
25.06.2018 @4 am we reach Bhira Village from where the trek to Devkund Waterfall commenced.
The silent morning just before sunrise. Chirping rather I would say whistling of birds and some me time of one hour simply made me fall for the nature..!!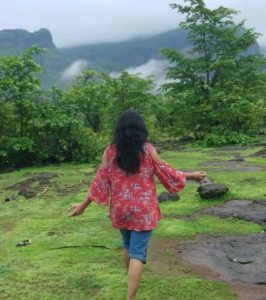 Witnessing that dark sky slowly changing it color to yellowish red to greyish to perfect sky blue color of its own with that clouds dancing near the mountains just made me run for my camera and click tones of photos.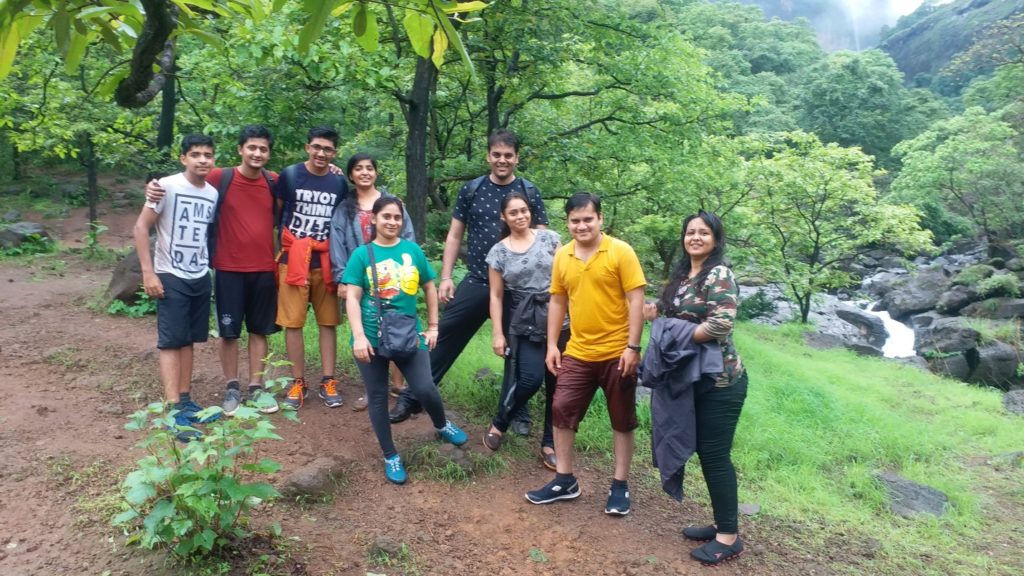 Garma garam poha and chai played their role to calm the rats running in our tummies and geared us up with all the energy required to start and finish the trek!
After little instructions from team leaders and little boasting of shelar mama (one who claims to started the devkund waterfall trek) we started our safar (PS: hindi wala safar ) which was as khoobsurat as the manzill that included crossing streams of waterfall.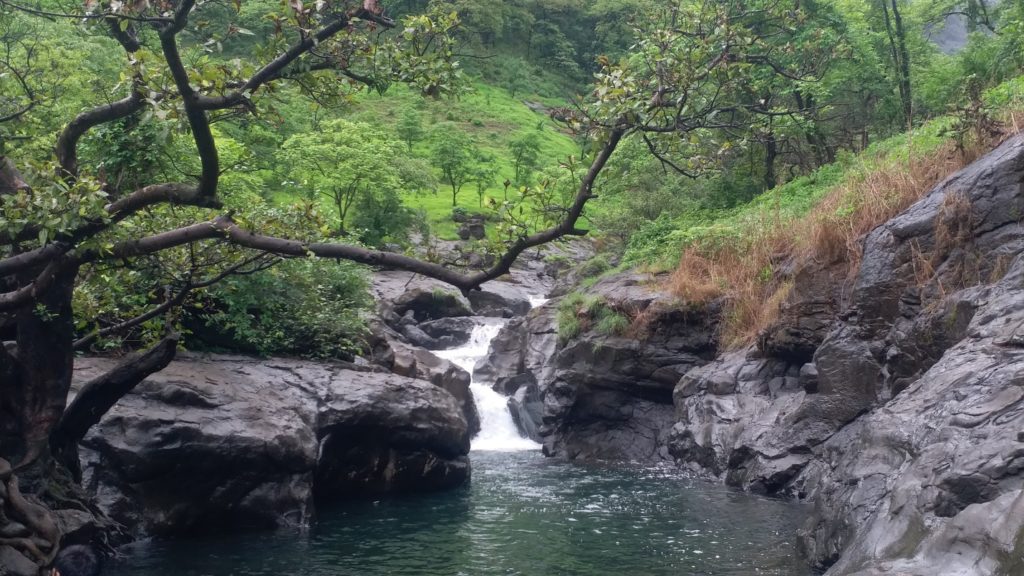 Safar to our Manzil was Lead by Swapnil..Khilti in between and Vinay in end so that none of the trekker has to face any difficulty.
That video of mannequin challenge shot by Swapnil seriously made our Rs.1199 vasool.
After admiring greeneries, taking selfies near serene lake. and starring at the ecstatic view of mountains kissing the clouds and finally after crossing that last ka thodu sa tricky path of trek we reach to Devkund Waterfall – Our Manzilll!
Manzil jo khoobsurat thi safar se bhi!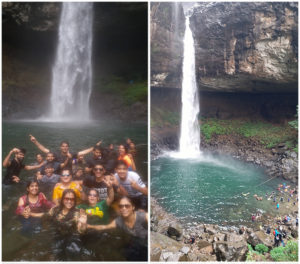 Watching water falling with great force from such height and their drops reaching our face was candy for the eyes!
Jumping in that ice cold 'kund'..splashing water on each other playing like small kids away from stress. Away from all that Mumbai's hustle and bustle was like food for the soul!
This seriously made not only our remaining Rs.1 vasool but whole of Rs.1200 vasool.!!
We started descending with wide smiles on our face. The yummy maharashtrian style lunch consisting of chappati, bhaji, raita, papad, dal, rice was waiting down at the base camp for us to boost us again to reach Mumbai!
Here again the hospitality of Swapnil, Khilti and Vinay is worth mentioning. They being with us throughout the trek had their lunch after serving us and after assuring we all have had our lunch!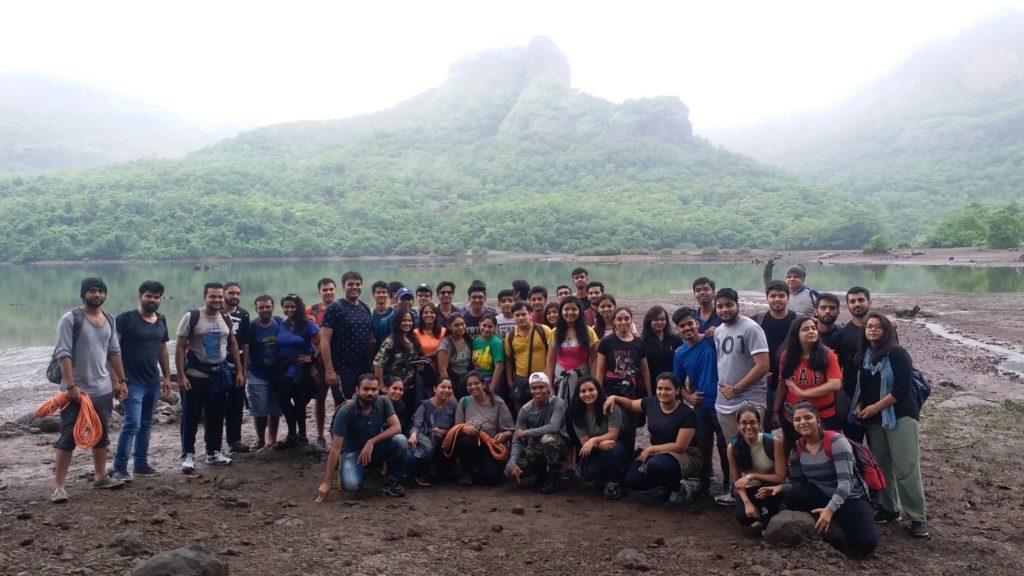 Thus,this was my Wonderful first trek experience with Mumbai Pune Adventures at Devkund Waterfall!